Bulgaria supports the European Pact on Immigration and Asylum
Last update: 2008-07-11 09:05:34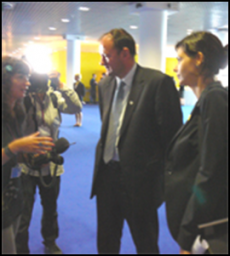 EU Interior Ministers met on an informal conference in Cannes to discuss the French EU chairmanship proposals in matters of internal security.
Bulgaria approves the approach of binding inner security of each state member with the entire Union's safety. Bulgaria supports the French chairmanship's ideas, because of the equal standards based on the voluntary principle.
The Bulgarian Minister of Interior - MIhail MIkov gave support to his French colleague's idea for setting up international civil defense crews to help dealing with serious natural calamities and disasters damages. The applying of unified tuition standards and certifying procedures in the civil defense field is considered to be more efficient. The lack of technical and operative compatibility delays the reactions.
It's the unity of action on the calamity's ground which is vital. The French Minister of Interior - Michelle Alio-Marrie stated that there are important activities as: technical compatibility of the civil defense crews, mutual trainings and probations, unified practices.





Contact us and receive free initial legal advice