Bulgaria, Russia Sign 8 Memoranda during Putin's Visit
Last update: 2008-03-06 00:37:10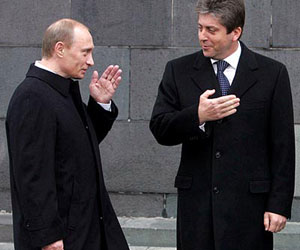 The close cooperation between Russia and Bulgaria can only be good for the Bulgarian economy, especially as the Russia economy is growing bigger and relationships between Russia and the US and UK have cooled.

Russian property buyers are now making up a major part of foreign property buyers in Bulgaria and they have always enjoyed holidaying on the Bulgarian coast.

Russian president Vladimir Putin and his Bulgarian counterpart Georgi Parvanov signed eight memoranda on Friday, the second day of Putin's visit to Sofia.

Half of the deals were in the energy sector, which dominated the negotiations agenda of Putin's visit, one of his last trips abroad before he steps down as president.

The full list of the memoranda is as following:

- the contract for the designing and construction of nuclear power plant at Belene.

- the memorandum for the transportation of used nuclear fuel from the research reactor of Bulgaria's Academy of Sciences to Russia.

- the memorandum for the construction of a transit gas pipeline through Bulgaria as part of the South Stream project.

- the contract establishing the company that will design and build the Burgas-Alexandroupolis oil pipeline.

- the memorandum establishing a ferry route between Varna and Kavkaz ports on the Black Sea.

- the plan for joint actions in the tourism sector in 2008-2009.

- the plan for cooperation in the culture, education and science sectors in 2008-2010.

- the protocol for a festival of Russian culture in Bulgaria in 2008.


Contact us and receive free initial legal advice