Amendments in Bulgarian Commercial Act
Last update: 2008-08-29 00:42:10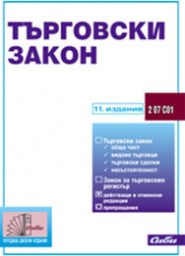 Ministry of Justice has sent to all ministries project for amendments in the Commercial Act for further concordance. The amendments foreseen are proposed in order to diminish administrative burden for companies that reorganize or transform. The new measures are believed to save money and time. Thus, it is expected that they would affect positively on economic activity and competitive power of enterprises.

The abovementioned alteration is in conformity with an EU directive, amending another two directives, in regard to the requirement for a report from independent expert when joint-stock companies merge or separate. All state-members of the European Union shall apply this directive to their national legislation by the end of 2008.

Amendments also foresee that capital verification should be executed in order to ascertain compatibility between capital and net value of the property being transferred to the company transforming. In such cases a general report should be drawn. The report is mandatory even if verification of the transformation is not required.

The project is published on Ministry of Justice website and it is open for public discussions. After coordination term expiry and marking of possible notes or proposals the project for the new Commercial Act shall be entered in Ministry Council for further consideration.
Contact us and receive free initial legal advice