OLAF's director visited Bulgaria
Last update: 2008-08-29 00:36:27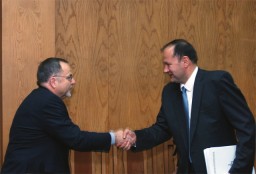 Director-general of European Anti-Fraud Office (OLAF) - Mr Franz-Herman Bruner came to Bulgaria for a two-days-working visit. The visit is related to Bulgarian efforts for transparent assimilation of European Union's funds.

During his stay in Bulgaria Mr Bruner was accompanied by Vice-Premier Meglena Plugchieva. OLAF's director-general also met Bulgarian Prime-Minister Sergey Stanishev, Minister of Justice - Miglena Tacheva, and Minister of Interior - Mihail Mikov.

Prime-Minister Stanishev stated that the main theme of their meeting was cooperation work between Bulgarian government, institutions and OLAF. Furthermore, particular measures for even better collaboration with OLAF were traced out. These measures just shall be specified and concretized.

Minister of Interior Mihail Mikov and Franz-Herman Bruner evaluated their discussion as a beginning of a more dynamic partnership between Ministry of Interior and OLAF. The two of them agreed that Bulgaria needs to reinforce its administrative capacity and to entirely assimilate EU rules and procedures as a fundamental measure against frauds.

Contact us and receive free initial legal advice