Deputes shall arrange the social and health insurance installments for the Bulgarian medics from the Libya case
Last update: 2008-09-26 03:49:20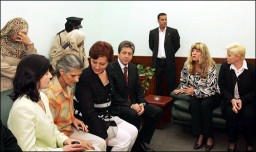 The social and health insurance rights of the five Bulgarian medics and the Palestinian doctor with Bulgarian citizenship - Ashraf al Hadzhudzh, who spent 8 years in a Libyan prison, shall be restored with a special bill.
The bill foresees the pension and health installments to be paid from the state budget. The total sum for the installments amounts at 30 000 BGN and it should be paid through the Agency for social help in three months term from the bill's entering into force.
The bill was proposed and prepared for discussion by the Ministry Council in connection to the President's decree from 24.07.2007 for the reprieve of Kristiana Vulcheva, Nasya Nenova, Valentina Siropulo, Valya Chervenyashka, Snezhana Dimitrova and Ashraf al Hadzhudzh.
It is necessary dr. Zdravko Georgiev's labour, health and social insurance rights to be arrange also for the time he was detained.


This gesture is extremely necessary and obligatory for the state as a small compensation for the almost 8 years of suffering in the Libyan prison.
Contact us and receive free initial legal advice