Bulgaria entered top 10 for countries reformers
Last update: 2008-06-27 10:01:31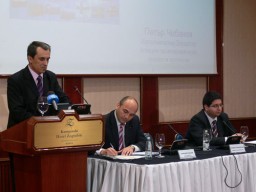 Bulgaria is in the club of the most successful rising markets in the world for the decrease of tax burdens and creating good conditions for development of the private sector.

Together with 6 more countries Bulgaria received "Ten best reformers" award for 2008 which was handed to the Minister of Finances on a solemn ceremony in New York's stock exchange building on Wall street by the administrative director of the World bank - Graham Willer.

The report on which base the classification was determined is named "Business conditions" and recognizes ease of procedures for contractors, investor's protection strengthening, improved credit approach, tax burdens decrease and import-export expenses abasement.

Together with Bulgaria the award was also received by Egypt, Macedonia, Croatia, Georgia, Columbia and Saudi Arabia.

Before the ceremony there was a presentation made by ministers of all awarded countries about the reforms which were brought to them by their governments improvement of the business climate in their countries and answered a few journalists' and investors' questions.






Contact us and receive free initial legal advice